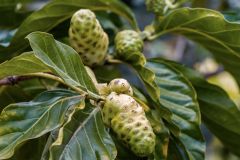 Noni

Morinda citrifolia
Organic
Famille botanique : Rubiaceae
Description :
Noni is a tropical shrub native of India, and now widely cultivated in tropical regions over the world. Its fruits have the size of an apple with a battered shape, its color is green and yellow, and turn whitish when ripe, they have a peculiar odor and bitter taste. The tree and its fruit are used as a medicinal plant in traditional Polynesian culture. The oldest reference comes from Indian Sanskrit writings stating its use in Ayurvedic medicine.
Origine géographique : Mexico, Indonesia
Composition, actifs :
Noni is rich in carbohydrates and dietary fiber, trace elements including iron, potassium, calcium and sodium; Vitamin C and Vitamin B3 (niacin). It contains flavonoids, iridoids, fatty acids, catechin, beta-sisterol, alkaloids (proxeronine and xeronin).
Partie utilisée : pulp
Applications, propriétés :
according to some American researchers, noni contains substances with antioxidant, anti-inflammatory properties, promoting the protection of the body against degenerative diseases such as cancer, however these "virtues" are controversial.
Produits :
we offer Noni under the following forms :
- Concentrated juice
- Powder and dry extracts.
Organic certification is available too.
Contact us for more information and to get our products specifications.