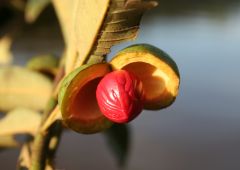 Ucuuba

Virola surinamensis
Botanical family: Myristicaceae
Description:
Virola surinamensis also called Wild nutmeg, is a big tree up to 30-40m, that grows in the rainforests and swampy areas of Caribean islands, Central America and northern South America. By cold pressing of the seed is obtained a light brown to brown butter with a distinctive wood-like odor.
Geographical origin: Brazil
Composition, actives:
contains lauric, palmitic and myristic acid (trimerystin : more than 70%)
Part used: seed
Applications, properties:
Ucuuba seeds contain a lot of fat (60-70%), of which 70% is trimerystin, a triglyceride of myristic acid and aromatic essential oil, which is of great importance for the cosmetics, pharmaceutical and food industries. Currently, trimerystin is obtained from nutmeg (Myristica fragrans), which contains trimerystin in a concentration of about 80%.
Products:
Contact us for more information and to get our products specifications.